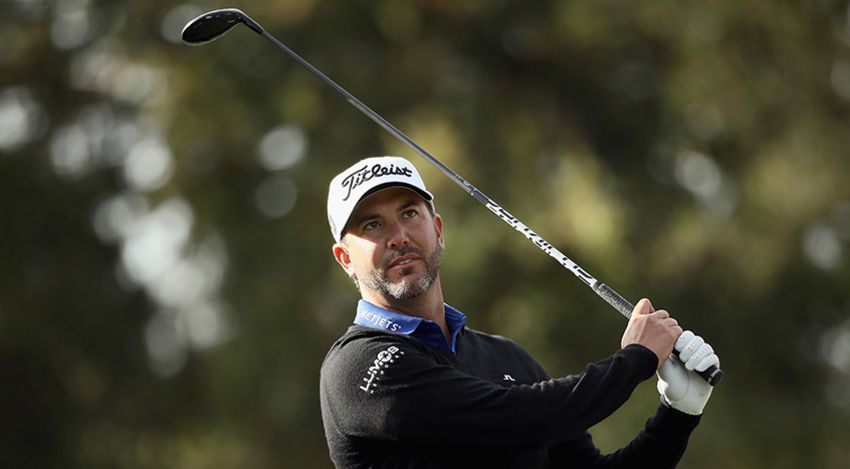 By The Associated Press
NAPA, Calif. — Scott Piercy began the new PGA TOUR season by pouring in putts and setting the course record at Silverado, a 10-under 62 for a two-shot lead Thursday in the Safeway Open.
Conditions were practically perfect in the morning, and Piercy took advantage. He made 12 birdies, only three of them from inside 10 feet, and he even missed a pair of birdie chances from inside 8 feet.
He wasn't alone in attacking Silverado.
Paul Casey, coming off a pair of runner-up finishes in the FedExCup playoffs that signaled a return to form, birdied his last three holes for a 64. Patton Kizzire also shot a 64.
Jon Rahm of Spain, who earned his PGA TOUR card from sponsor exemptions last season after wrapping up his college career at Arizona State, began his PGA TOUR career as a member in fine fashion. He made a hole-in-one — the first one of his life — on his second hole, the par-3 11th. His 7-iron from 173 yards flew straight into the cup.
"Very special moment," Rahm said. "It was hard to believe. I actually thought it hit inside the hole and bounced out."
Phil Mickelson, playing a domestic PGA TOUR event in the fall for the first time in a decade, overcame a bogey-bogey start to post a 69, along with playing partner and defending champion Emiliano Grillo. Bill Haas was added to that group when Tiger Woods withdrew and showed no vulnerability in his game by posting a 66, the best score of the afternoon.
"I got off to a slow start. I wasn't as focused as I need to be," Mickelson said. "But I put myself in a position where tomorrow if I can get hot on the greens — get perfect greens in the morning — get it going, shoot 6-, 7-, 8-under par and get right back in it for the weekend."
Mickelson and Casey have had the best calendar years without winning based on the world ranking points they have earned. Mickelson is playing his final tournament of 2016, while Casey plans to play the next two in Asia before taking off the rest of the year.
Piercy, at least on paper, had one of his better years. He earned $2.9 million. He had a chance to win a major at the U.S. Open until Dustin Johnson pulled away at Oakmont, and Johnson beat him by one shot at a World Golf Championship.
But those runner-up finishes in big events covered up an atrocious year with the putter. Piercy was 156th in the most important putting statistic, strokes gained: putting, which is what held him back most of the year.
It's what carried him Thursday. He holed a pair of 18-foot birdie putts on successive holes early in his round, and kept pouring them in, one after another, to offset a pair of bogeys from the bunkers on the par-4 third hole and the par-3 seventh late in his round.