Blixt Helps Smith Get His First TOUR Win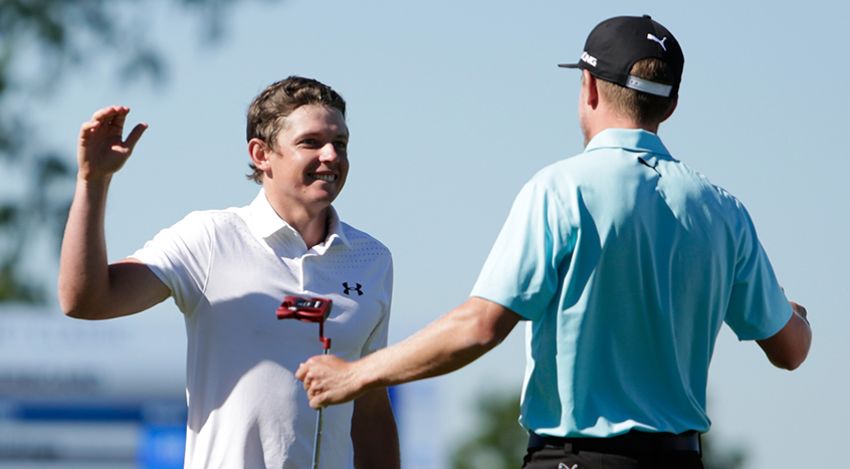 May 01, 2017
By Mike McAllister, PGATOUR.COM
AVONDALE, La. – It was during a practice round on Tuesday that Cameron Smith had a feeling. More like a hunch. Feeling good about his swing, and noticing that partner Jonas Blixt was also on his game, the young Aussie's confidence started to swell.
Smith told himself, "We're going to win this thing." But then he added a disclaimer.
"Never really thought it would happen."
It did, although it took four best-ball playoff holes and a Monday morning finish at TPC Louisiana before Smith's hunch became a reality. His birdie after a terrific pitch shot on the par-5 18th decided the PGA TOUR's first team event in 36 years, as Smith and Blixt beat the South Carolina duo of Kevin Kisner and Scott Brown to win the Zurich Classic of New Orleans.
Each player gets credit for an official TOUR win. For the 23-year-old Smith – who's now eligible to play in next week's THE PLAYERS Championship at TPC Sawgrass, his home practice facility — it's the first of his young career and it left him emotionally spent on the 18th green, finding it difficult to put into words what it meant.
For the 33-year-old Blixt, who's already qualified for THE PLAYERS, it was the third of his career – and this one, he said, was the most fun. The Swede had joined forces with the Aussie – they both live in the Jacksonville, Florida, area, and Blixt is roommates with Smith's caddie – but certainly didn't enter the week as favorites in this tournament's strongest-ever field. In fact, they haven't really known each other that long.
In the end, though, they found the kind of chemistry needed to win as a team.
"I felt like we're kind of similar," Blixt said. "We joke around at times but we also get extremely serious and into it at times, too. I felt like we gave each other a lot of space to play our own game and I felt like our games fit each other very well on the golf course, especially when you have alternate shots. I mean, I felt like I could hit it anywhere and he would get it up-and-down, and I hope he felt the same way."
Blixt and Smith each had gorgeous opportunities in the earlier playoff holes Monday, with four birdies putts from inside 11 feet. Though they failed to convert, they felt in control with their aggressive play, setting the tone against Brown and Kisner.
During the trip from the 18th green to the ninth teebox for the third playoff hole, Smith turned to Blixt and said, "Let's just stuff it in there." Smith then took an aggressive line and found the green near the water guarding the left side. Blixt followed with an even better shot to inside 9 feet.
Both missed the putts, but then Smith left nothing to chance on his decisive pitch shot from 57 yards on the fourth playoff hole back at the 18th. It was the culmination of some extensive short-game work since the start of 2017.
"Inside a 100 [yards], I thought that it was my strong point in my game, and kind of because it was a strong point in my game, I just kind of let it go a little bit," Smith admitted. "Really started working hard on that again this year, and yeah, to hit a shot like that under the pump, especially when you know you've got it, was pretty cool."
His shot set up the short winning putt. It was a putt he had practiced many, many times back home in his native Brisbane, Australia, dreaming that it would win him a PGA TOUR event. Now it was a reality … and nothing like he imagined.
"To have a put to win on the PGA TOUR when you've been working towards it your whole life, is a completely different feeling," Smith said. "It felt like the longest 2-1/2-foot putt I've ever hit."
As well as Kisner and Brown played to start Sunday's final round – 10 birdies in their first 11 holes to jump into the lead – they fell into a lull after that, one that extended into Monday.
In their last 11 holes, including the four playoff holes, they made 10 pars. The only hole in red numbers was Kisner's miracle chip-in for eagle on the 72nd hole in the looming darkness Sunday that forced the playoff.
Both had birdies opportunities that could've won the playoff – Brown missing from 15 feet on the first hole, Kisner missing from 7-1/2 feet on the second. And both missed birdie putts inside 20 feet on the final hole that could've extended the playoff.
"The greens have just slowed down so much," Brown said. "They are just hard to putt, and we just didn't adapt well, unfortunately, coming down the stretch yesterday. And then this morning, we just couldn't get anything to go."
Still, the South Carolina duo – friends since they were 10 years old – welcomed the opportunity to team up together and contend.
"We had a great time, man, that was a great format," Kisner said. "Fun to play with him in the heat. Having a chance to win is always fun. Didn't get it done, but we'll be back next year."
So will Smith and Blixt – although Smith jokingly wasn't ready to commit just yet during their last press conference together this week.
Smith: "Jonas isn't my partner next year."
Blixt: "Who are you going to play with?"
Smith: "I don't know yet."
Blixt: "We'll see."
Then a couple of bottles of celebratory champagne were opened, Blixt pouring some into the Zurich trophy. They each then took a big swig. It was still mid-morning on Monday, but here in New Orleans, that seemed rather appropriate.
"A bit dusty in the morning," Smith said.
"That was good," Blixt added. "I'll have a refill."